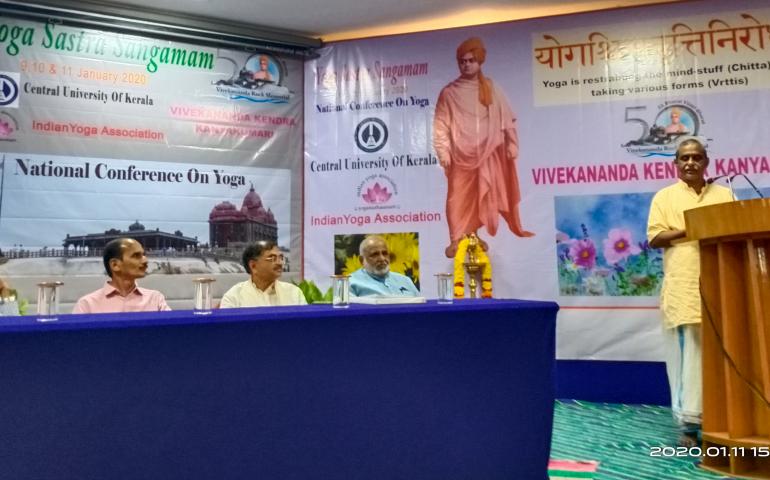 With the main aim of propagating the study and understanding the Yoga Texts in day to day life, the Yoga Conference 2020 - योग शास्त्र संगमं by Vivekananda Kendra Kanyakumari and was organised with the collaboration of Central University of Kerala, Kasaragod and support by Indian Yoga Association at Vivekanandapuram, Kanyakumari from 9 to 11 January 2020 with 221 participants and 15 karyakartas in the organising team. The representation was from  15 states and also from 11 renowned institutions.  In all 54 papers were presented.
Vice president of Vivekananda Kendra, Kum Nivedita Bhide inaugurated on 9th morning at 9.30. Dr. Nagarathna, Chief consultant at SVYASA and Dr. K. Subrahmanyam  were the special guests for the inaugural program.
Respected NiveditaDidi explained that the basic intention of this Shastra Sangamam is to make ourselves and the world aware of the fact that we must not limit "Yoga" as a mere physical exercise, instead we must study and go through all the defining aspects of Yoga. She added "If we look around and observe the problems then we will notice that complexities of the Human mind is the basis of all. So through Yoga and the practices of Patanjali Yog Sutra we must make our mind clean and clear so as to function at our best  possibilities."
Various esteemed organisations and people working in Yoga across the Nation were part of this Sangamam like Yoga Bharathi, Vivekananda Yoga Therapy Kendra, Hindupur, Swasti Yoga Foundation Pune, New age India Mumbai, Mangalore University and central University of Kerala. Much revered Yogacharya from Vashishth Yoga Foundation Dr. Raghvendra Pai was the chief guest in the confluence.
Paper presentations were held simultaneously in Eknath hall and Vivekananda hall. Daily Yogasana, Pranayama and Dhyana practices were held in Patanjali, Chitrakoot and Dhyan Mandir respectively. Delegates were accommodated in Kashi, MatruMandir and Satyakam Buildings.
There were total 54 paper had been presented on various classical yoga text - patanjal yoga sutra, various hath yoga texts, yoga upanishads, omkar dhyan, thirumular thirumanthiram etc. The unique feature of the Sangamam was the recitation of Patanjala Yog Sutras by 22 participants. Recitation Competiton on PYS was held, for 11 participants.
Keynote addresses were delivered by :
Dr. T. V. Padmanabhan from Central University of Kerala on Pranayama in Vasistha Samhita
Dr. K. Subrahmanyam (Pro Chancellor, SVYASA University) on Bharat the land of Yoga
Sri N. V. Raghuram, (Yoga Bharathi, Bangalore) on Karma Yoga
Dr. S. Ramakrishna Sharma (Suratkal) on PYS and Sanskrit
In the evenings all participants visited Ramayana Darshnam, Bharat Mata Sadanam and later witnessed Bharatnatyam by the students of Vivekananda Kendra Vidyalaya, Kanyakumari.
In the afternoon of 10th January ll delegates visited Vivekananda Rock Memorial.  Participants were amazed with the exhibition of Sidhha Medicines and its astute knowledge which was presented by Dr.Ganapati ji in the morning of 11th January.
The valedictory session was chaired by  Dr. Subramanya Pailoor, Academic coordinator of Dept of Yoga Sudies from Central University of Kerala. Chief Guest, Shri Tarun Vijay, M.P (Rajyasabha) explained the various dimensions of Yoga in our lives. He also stated How Rama is an Ideal National Icon for the most dynamic country "Bharat".