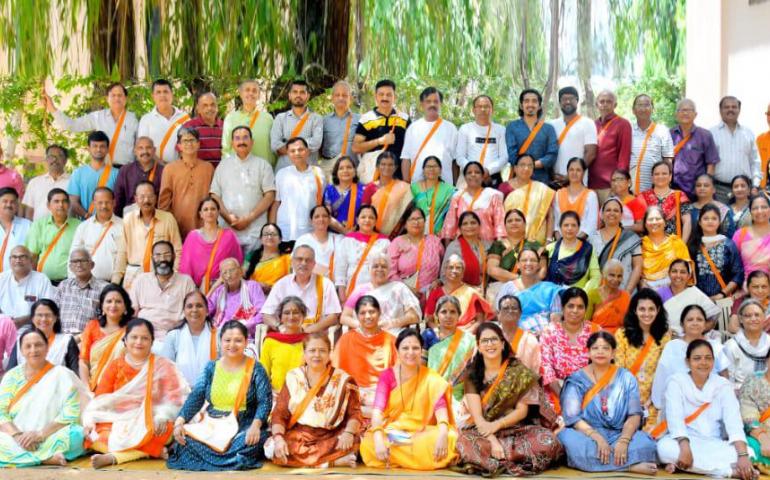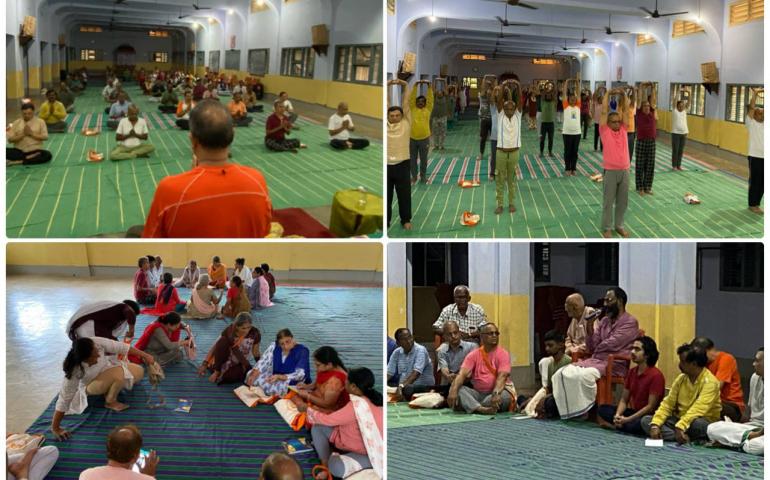 Vivekananda Kendra Kanyakumari, Spiritual Retreat from July 20th to 26th, 2022
Spiritual Retreat Participants reported on 19th July, 2022 and started with Bhajan Sandhya and Introduction of the Shibir do's and don'ts, familiarising organising Team to Participants was done.
Mananeeya Rekha Didi gave guidance to the participants in her Inaugural Speech and informed them about the importance of Kanyakumari and the Shibir.
Organizing Team: VK Dakshin Prant (Karyakartas from all the 3 Vibhags were there) Karnataka – 1, Kerala – 3, Tamil Nadu – 4, 3 Karyakartas who were in Kanyakumari were part of the Shibir and also Organizing team, All India Shibir Pramukh & Dakshin Pant Sangathak, so Organizing team had 13 Karyakartas.)
Total Participation:  77
Maharashtra: 31, Bihar: 15, Tamil Nadu: 7, Karnataka: 5, Kerala: 4, Gujarat: 4, Assam: 4, Madhya Pradesh: 2, Uttar Pradesh: 1, Rajasthan: 1, Panjab: 1, Haryana: 1, Singapore: 1
Brothers: 28
Sisters: 49
Participants in English:  23
Participants in Hindi:     54
Sessions Covered in both the Languages:  Concept of Spirituality, Sri Ramakrishna & Maa Sarada, Swami Vivekananda, Kendra Prarthana, Eknathji & Vivekananda Rock Memorial, Indian Culture, Sadhana, Jnana Yoga, Karma Yoga and Bhakti Yoga.  Karyakartas involved in taking these sessions:  7
Every day the Kendra activities were taken for 20 minutes during the Prerana se punarutthan.
Group discussion and presentation on every day after the first session included previous day's second session also.
Other sessions:
Yoga:  12 Sessoins including Cyclic Meditation and Omkar Dhyana (it was separately done for Hindi & English)
Other Activities:
Shramasamskar
Visit to the VK Campus (Beach – Swamiji Mandapam, Mananeeya Eknathji Samadhi, Exhibitions: Ramayana Darshan & Bharat Mata Sadanam, Pictorial Exhibition & Gangotri)
Visit to Vivekananda Rock Memorial, Kanyakumari Devi Temple and Arise Awake Exhibition at Kanyakumari.
Every day personal interaction with the Participants were done who were interested in joining hands with Kendra activities.
Interaction with the participants in 3 Groups: 
• Maharashtra – Shri.Ravi Sharmaji and Kum.Sumitra Didi. 
• Bihar, Gujarat, Assam, Madhya Pradesh, Rajasthan, Punjab, Haryana – Kum.Radha Devi and Shri.Renjith ji. 
• Tamil Nadu, Karnataka, Kerala & Singapore – Shri.Raghunathanji and Smt.Thangalakshmi Akka.
Concluding function (Samapan Samaroh) was graced by Mananeeya Hanumantha Raoji, Vice-President of Vivekananda Kendra.
Inspiring Part of the Shibir was all the participants expressed their happiness and willingness to join Kendra with in doing Nation Building activities of Kendra.  17 of the participants have become Patrons and one has donated Rupees One Lakh as a patron.  Organizing Team Members were very happy and energetic throughout the Shibir though 2 of them became sick.
The Shibir went on smoothly and happily by the coordination of the Organizing team and cooperation of the participants.