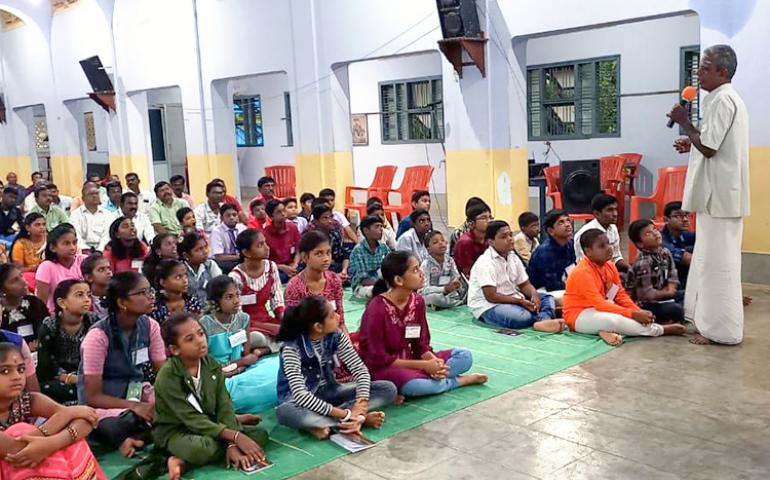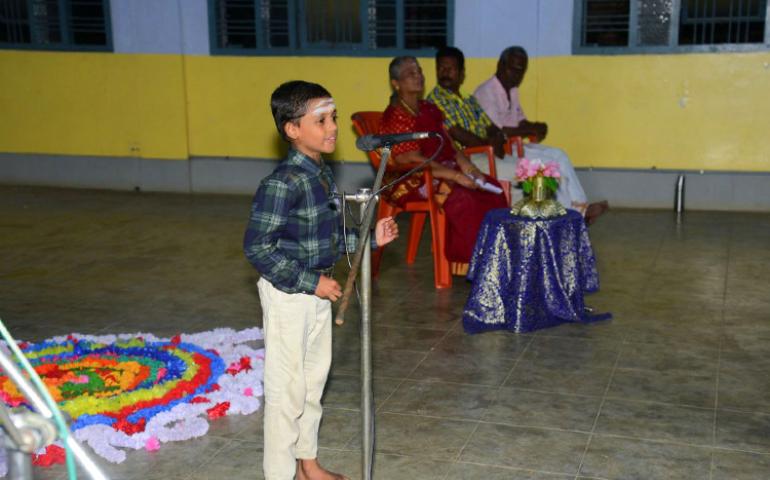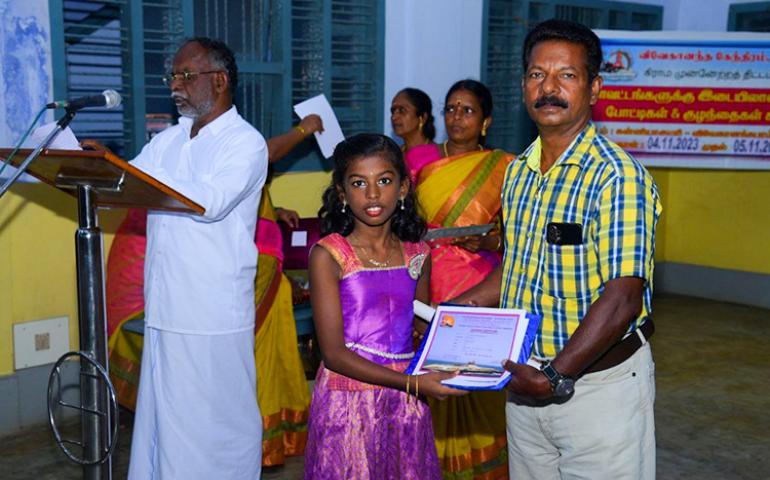 Vivekananda Kendra Kanyakumari, Dakshin Prant, Tamilnadu Vibhag, Vivekananda Kendra Rural Development Programme, organized an Inter-District Cultural Competitions & Children's Cultural Camp at Vivekananda Kendra, Vivekanandapuram, Kanyakumari on 4th and 5th November 2023. 60 students and 110 parents and teachers from 39 schools of various districts participated.
On 4th November 2023, the camp was inaugurated by Odisha Prant Sangathak Sri. Ravi Naidu Ji, who lit the Thiruvilakku and offered Asiyurai. In the morning, competitions such as elocution, music, memorization, speech, and painting were conducted. In the evening, participants visited the Ramayana Darshan, Gramodaya Park, Pictorial exhibition, and Ekakshara Ganapati temple inside the Kendra campus.
Later, Mathru Puja program was organized, where the children performed Paatha puja to their parents. Kendra Karyakartha Smt. Janaki Pushpam conducted the puja, emphasizing how parents should be worshipped and respected by children. Parents and children enjoyed by feeding prasadam to each other. At night, parents, teachers, and children enjoyed dancing and playing games, forgetting their age.
On 5th November 2023, the participants visited the Tirupati Venkateswara Swamy Temple and enjoyed the sunrise view. After breakfast, they visited the Vivekananda Rock Memorial, Sri Pada Mandapam, and Sri Bhagavati Amman Temple. A Group Discussion was conducted for parents and teachers on the topic of child upbringing, strategies to avoid children watching TV and using cell phones, and everyone shared their views and opinions. A session on the topic 'Inspiring incidents from the life of Swami Vivekananda' for children from class 1 to class 5 was conducted by Kendra Karyakartha Smt. Saraswati, and on the topic 'Patriotic Monk Swami Vivekananda' for children from class 6 to class 10 was conducted by the Secretary of VK-RDP Kovilpatti Branch Shri. Paramaguru Ji.
In the concluding ceremony, the Secretary of VK-RDP Shri. Ayyappan Ji, Tirunelveli district in-charge Smt. Janaki Pushpam, and Nagercoil Rotary Club President Shri. Selvaraj Ji attended and addressed the participants, giving prizes to the winners of cultural competitions. The camp concluded with Kendra Prarthana.