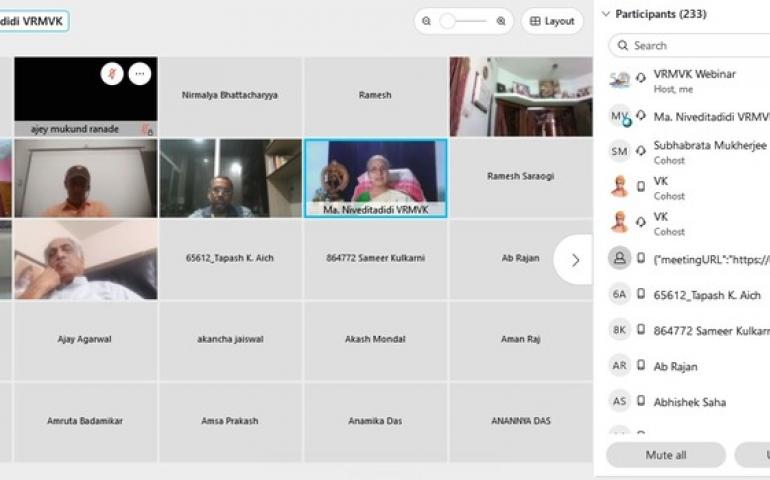 Vivekananda Kendra Kanyakumari, Paschimbanga Prant
To commemorate the 7th International Day of Yoga, we have organised 5 discourses. The event was inaugurated on 10th June 2021 through Webex & Youtube Live.
Ma.Nivedita Bhide (All India Vice President, Vivekananda Kendra Kanyakumari) gave a talk on 'Karma Yoga' (1st Discourse). It started with the welcome speech  by Shri.Ramesh Kumar Saraogi followed by Shanti Path.
Ma.Nivedita Didi began with the proposition of all the Yogas to be interconnected and stated that Karma is something that we cannot avoid. Even not doing is Karma. She shared the spectrum of meanings of Karma and then elaborately discussed on the seven significant points of Karma: Karyam Karma Smacharet, Lokasangraha, Satatam Karyam, Choice of Action, No Expectation of Results (as Ishwara can propose better results), Prasad Buddhi and to stay Here and Now. She finally concluded by claiming that Nishkama Karma, with Akarta bhava, can lead us to realize the Nitya, Suddha, Mukta Jiva that we are.
It was concluded with vote of thanks by Shri Rajarshi Halder followed by Shanti Mantra. The whole progamme was conducted by Ma.Nirmalya Bhattacharya (Sah Prant Sanchalak).
Total Participation - 342