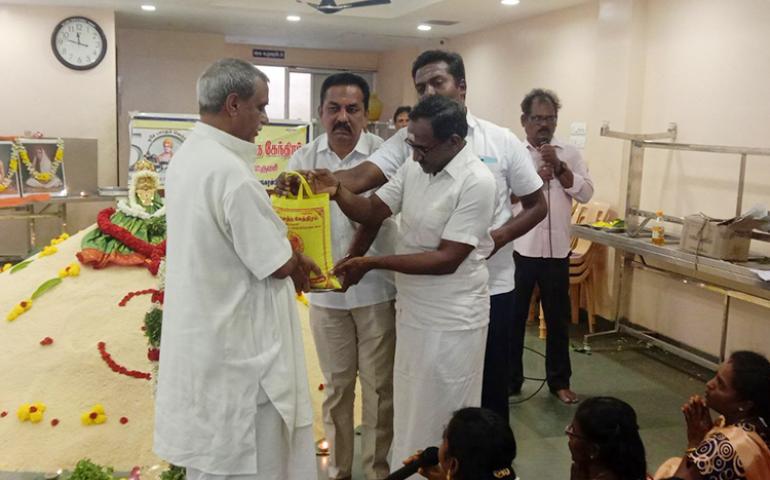 Vivekananda Kendra Kanyakumari, Dakshin Prant, Tamilnadu Vibhag, Vivekananda Kendra Rural Development Programme, Kovilpatti Branch performed Anna Puja at Sri Jothi Mahal, Sankarankovil, on the auspicious occasion of Krishna Jayanti on 6th September 2023. Around 150 people participated.
The grand Anna puja started with lighting the lamp and prayer. Sankarankovil Amutha Jewellers Smt. Subbulakshmi, Veda Pharmaceuticals Smt. Kalarani Sekhar, Bharat Tuition Center Smt. Prema Velmurugan inaugurated the event by lighting the lamp.
Followed by Prayer, the Pramukh of VKRDP Sankarankovil Sri. Sekhar Ji welcomed all and explained the purpose of Anna Puja. After that, Kendra Karyakartha Sri. Nagaswamy ji recited the Annapurna Stothram, followed by the Vishwarupa Darshan of the eleventh chapter of the Bhagavad Gita.
Smt. Subbulakshmi, Smt. Kalarani Sekhar and Smt. Prema Velmurugan performed the Mangala Aarti.
Joint Secretary of Sengundar Community of South India & proprietor of Anusuya Jewellery, Shri. Marimuthu Ji, Proprietor of CSMS Jewellers Sri. Subramanian Ji, Proprietor of Seethalakshmi Jewellers & Silvers Sri. Sankara Subu Ji, and Kendra Well-wisher Sri. Selvaraj Ji presented the rice collected from Sankarankovil and surrounding villages to Mananeeya Hanumantha Rao ji, All India Vice President of VRM&VK.
About 3,430 kg of rice was collected from several villages around Sankarankovil. This rice is distributed to more than 2000 poor children studying in Balwadis, aged grandparents, non-government aided schools, and math that provides daily food donation in six districts of South Tamil Nadu.
Mananeeya Hanumantha Rao ji gave the Asiyurai (Asirvachan) and spoke about the benefits of food and said that every time you put food in your mouth, you should eat it by chanting 'Krishnarpanam'. Sri. Ayyappan Ji, The Secretary of VKRDP gave the felicitation address.
Shri. Velmurugan, Bharat Tuition Center delivered the vote of thanks and presented mementos to the well-wishers who participated in the program. The arrangements for the program were done well by Shri. Shekhar Ji, the pramukh of VKRDP Sankarankovil, Shri. Velmurugan and team.