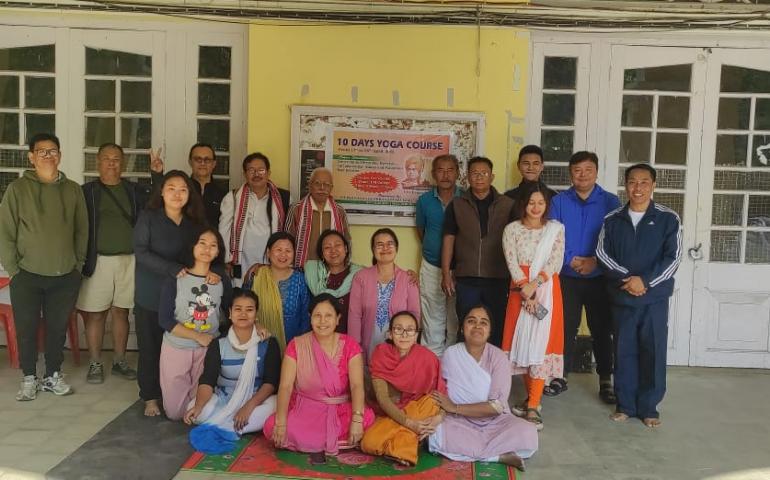 Vivekananda Kendra Kanyakumari, Imphal branch conducted a 10 days yoga course based on the theme - Yoga : the way of life, in DM University from 17th April to 26th April 2023. 
Twenty yoga practioner from different places of Imphal and Thoubal attended the full course with utmost regularity.
It was daily 1hr 15 min program. The course content consisted of both concepts and practical of yogasana. It started with prayer, breathing and loosening exercises, suryanamaskar, asanas of standing, sitting, prone and spine postures and pranayams.
The concept part consisted of discourses and discussion/interactions on the yoga theories. It started with what is yoga? Then definitions of yoga from different scriptures, happiness analysis, four margs (ways) of yoga defined by Swami Vivekananda, Astangayoga in details, a brief introduction on the life and message of Swami Vivekananda and about Vivekananda Kendra - a Spiritually-Oriented Service Mission.
On 26th April, the course completed with concluding program and certificate distribution. Dr. S. Rajendra Singh, renowned urosurgeon and social activist was present as Chief Guest and Dr. L. Rajen Singh, HOD, Physics Department, DM University presided over the program. They have also participated in the yoga course. 
Dr. Rajendra Singh in his address described the importance of yoga in present context. Also demonstrated Neti Kriya - a Yogic kriya, very much beneficial in treating sinus, and some other respiratory ailments. Oja emphasized yoga over exercises as yoga does not need expensive equipments.
Dr. L. Rajen Singh in his presidential remark explained yoga is integration of body, mind and soul. Yoga is expansion of self to family, community, society, nation and whole creation. Yoga is a way of life.
Sri BK Singh, former Principal, Vivekananda Kendra Vidyalaya, Amliang, Arunachal Pradesh gave the welcome address and Sri M. Chandrababu Singh, senior teacher, Manipur Public School, Imphal offered the vote of thanks. A group song was presented by Smt Nalini Devi, former teacher, VKV, Amliang and young participants of the course. The program was conducted by S. Robita Devi. All the participants received the completion certificate in the program.
Yoga is a continuous and consistent process. As follow up some new 10 days yoga courses are planned in different localities of Imphal.