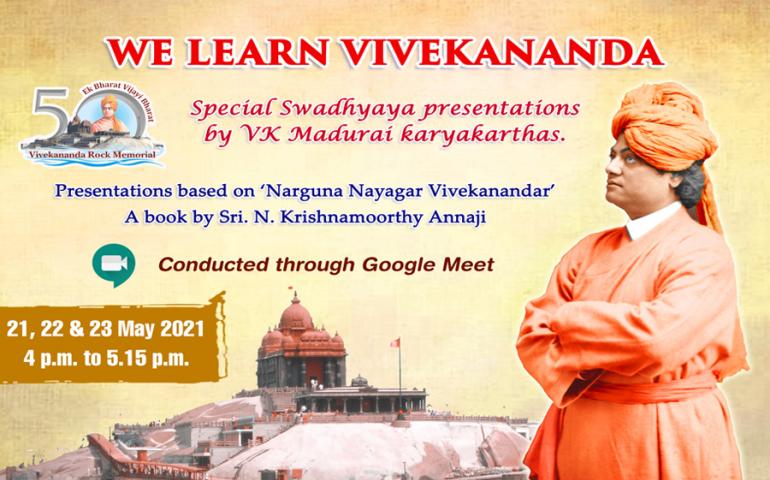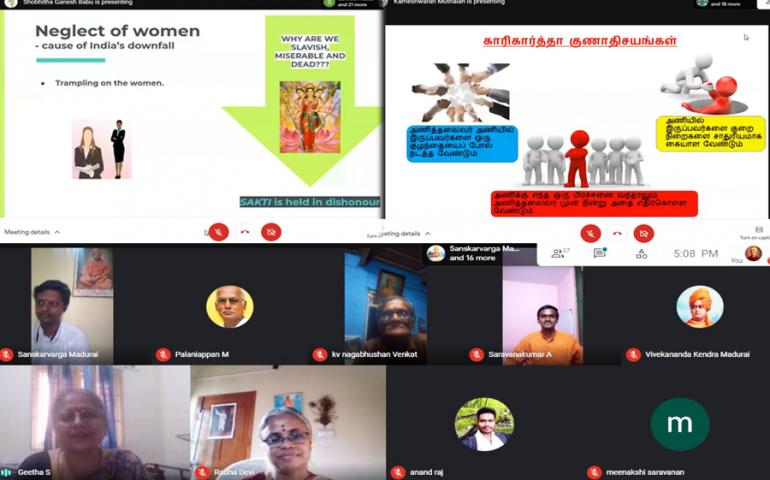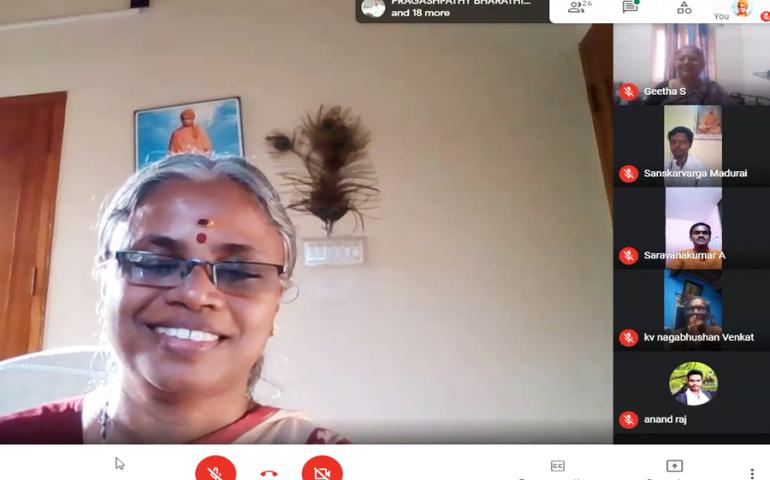 Vivekananda Kendra Madurai organised 'We Learn Vivekananda' an event of Swadhyaya Presentations by VK Madurai Karyakarthas. Through Google Meet, the event took place for three consecutive days 21, 22 & 23 May 2021 from 4 p.m. to 5.15 p.m. Totally 17 Karyakarthas gave the presentations and about 20 karyakarthas and elders observed the presentations for three days.
The objective of the event is to learn and imbibe the qualities of Swami Vivekananda and to train the Karyakarthas to take Swamiji's values and message to people in an inspiring way. Each Karyakartha selected and presented one of the chapters from the book 'Narguna Nayagar Vivekanandar' written by Sri. N. Krishnamoorthy Annaji.
The three day PPT presentations by the Karyakarthas proved to be a very energizing, motivating and experiential sessions. Each participant exhibited the grasp of the given topic. A few members made pictorial presentations and supplemented with their ideas. Even young children like Priyadarshini and Boominathan made their maiden attempt in PPT presentation. Smt. Meenakshi and her two children participated in this event and they are regularly participating in Kendra activities serving as role models for Amrit parivar in Madurai.
Mananeeya Radha Didi, Dakshin Prant Sangathak graced the occasion with her valuable presence and gave Ashirvachan and encouraged Karyakarthas for all the three days. Smt. S. Geetha, Sampark Pramukh, Tamil Nadu Vibhag also gave Asirvachan on the third day and summed up all the presentations of that day.
Experience Sharing Session:
As a befitting conclusion for the three day event, an experience sharing session was arranged on 24-5-21 from 4.30 p.m. to 5 p.m. Each member shared his or her experience, what they learnt and how they are going to apply that learning in life. Everyone has begun to imbibe the qualities that they chose to speak on. Karyakarthas gave some recommendations on next theme also. With all these suggestions in hand, surely another similar presentation event will be organised soon.

"Be and Make" - Swami Vivekananda