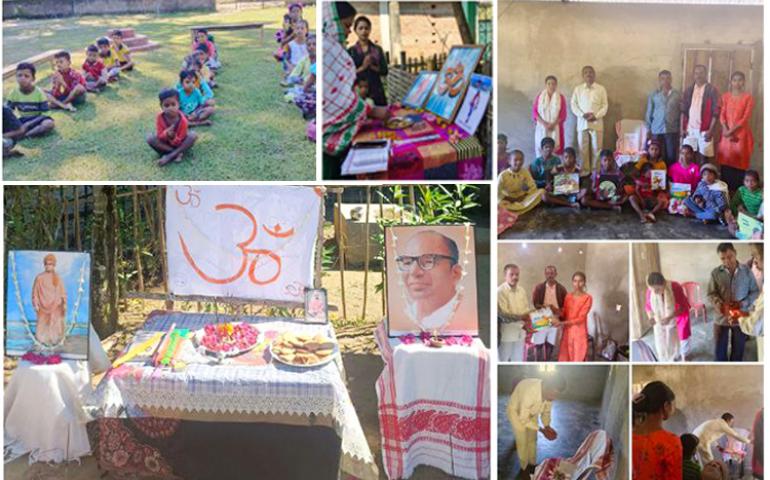 Vivekananda Kendra Kanyakumari, Assam Prant, organized Sadhana Diwas Programmes at Anandalayas across six locations, engaging a total of 138 participants, on 19th November, 2023.
The morning session commenced at Khelmati tea garden, where the Acharya, students, elders, and a Gram Samiti member engaged in chanting and singing. A Sevavrati delivered a talk on Mananeeya Sri Eknathji Ranade, the founder of VRM and VK. The session highlighted his childhood incidents of selfless courage, including rescuing a child from the wheels of a chariot, followed by a loud reading about Mananeeya Eknath ji's family. The celebration concluded with 28 participants offering Pushpanjali to Mananeeya Eknathji, seeking his blessings, followed by Prasad distribution.
In Chilling village, 11 people participated in the Sadhana Diwas programme. The participants included Acharyas, students, and elders. Similarly, in Silghat Tarani village, 13 people took part in the programme. The programme at Dessoie T.E. Anandalaya drew 30 attendees.
At Rangamati Bapuji Vidyalaya, a total of 39 people, including 9 Acharyas, 25 students, and 5 parents, took part in the utsav.
Lastly, the program held at Panitola tea garden involved 17 participants, including Gram Samiti members. Some students were presented with elementary storybooks to encourage loud reading practice—a strategy aimed at fostering confidence and academic performance among Anandalaya students.