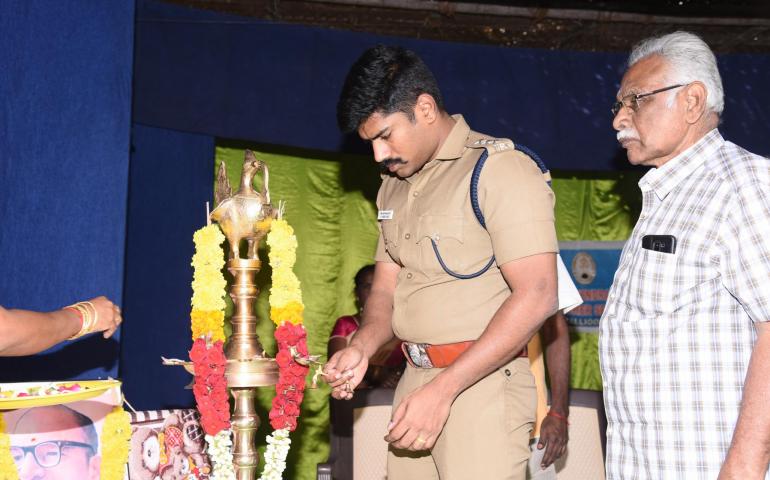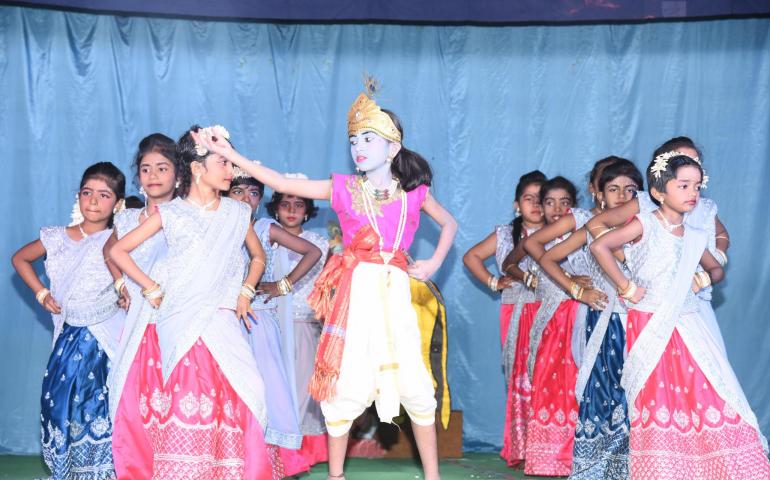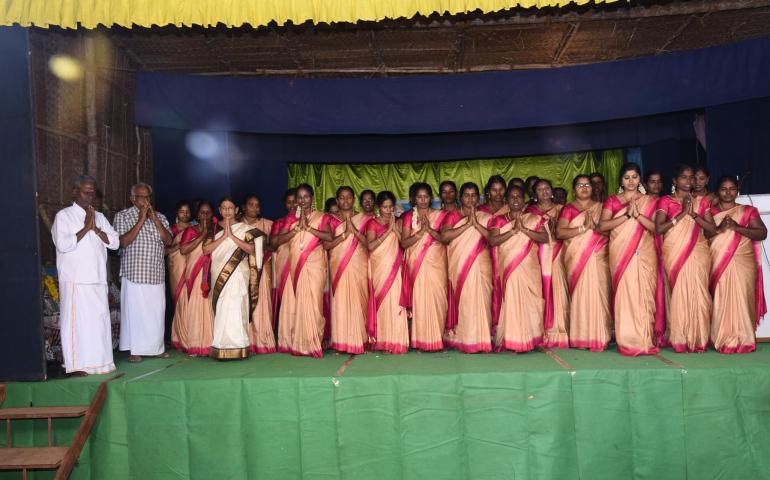 We celebrated the 160th Janma Diwas of Swami Vivekananda, Annual Day and National Youth Day on 12.01.2023 in a grand manner.  The programme began at 3.00 p.m.
On this occasion the programme was inaugurated by our honourable chief guest Mr. Yogesh Kumar (Deputy Superintendent of Police, Vallioor), guest of honours, Dr. Pon Thangadurai, Mann.Ayyappanji, Kum.Priyamvada Pandey DIDI, our correspondent S.K. Subramanianji, and our Principal Mr. T.Muthu Krishnan by lighting the lamp.
Next the book" The Human evolution of Indian culture challenges  and potentialities" written by  Mann. Niveditadidi, Vice – President of Vivekananda Kendra and Vivekananda  Rock memorial translated into Tamil  by Shri.A.P. Sundar was released by our correspondent S.K. Subramanianji and also it was issued  to Dr. Pon Thangadurai by our Chief guest Mr. Yogesh Kumar.
The celebration was initiated with an invocation Song sung by the students. The Welcome address was delivered by our teacher Mrs. Mari Bala. Following this   annual  report were presented by  our Principal  Mr.T. Muthu Krishnan.
The academic toppers as well as extra curricular activities toppers were honoured by giving prizes. The prizes were given by the Chief  guest, guest of honour, correspondent and principal.  One of our teacher Mrs.Sowmiya read out the name of the winners.
Chief guest Mr.R.YogeshKumar addressed the audience.  He  appreciated the students who received the prizes in the various curricular and Co-curricular activities and also  he praised our School compared with Vivekananda's  Motto.
Next, guest of honours Manna Ayyapanji and Priyamvada Pandey DIDI gave eloquent speech about 'Youth day' and Samartha Bharath Parva. Then Our Special guest Dr. Pon Thanga Durai also gave  a valuable  Speech about the  Student's future.
Correspondent  S.K. Subramanianji, Principal Mr. T.Muthu Krishnan, guest of honour Mann. Ayyappanji, RDP Secretary Kanyakumari, Kum. Priyamvada Pandey DIDI and Dr.Pon Thangadurai presented the memento  to the Chief guest.
Vote of thanks was proposed by our  teacher Mrs. Sethu Lakshmi. Cultural Programme was compered in two  languages English by  Miss Lisa and Tamil by Mrs.Muthu Lakshmi.
Quotes were said by our teachers in Tamil by Mrs. Muthu Lakshmi and in English by Miss. Lisa.  The programme was concluded by Kendra prayer at 7.25 p.m. Total participants 1300.