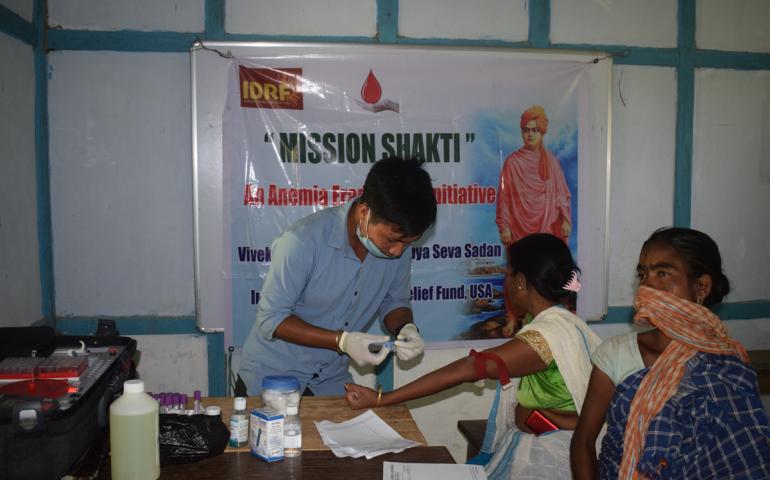 Mission Shakti- anemia detection and eradication program initiated by Vivekananda Kendra Swasthya Seva Sadan , Laipuli, Tinsukia, Assam was launched on 1st January 2021. This program is funded by India Development and Relief Fund (IDRF), USA. Our objective was to conduct outreach camps in some remote villages of Assam and Arunachal Pradesh to detect acute anemia among women and adolescent girls and help them to come out from this health issue. We selected 7 villages of Assam and 14 villages of Arunachal Pradesh. All the villages of Assam are in Tinsukia district and the villages of Arunachal Pradesh are in Namsai and Changlang districts. The mobile medical unit of Vivekananda Kendra Arun Jyoti, Arunachal Pradesh took the responsibility to implement this program in Arunachal Pradesh. 
The first phase was over in April 2021. We screened 1738 women and out of them 903 were found as severely anemic. Digital haemoglobinometer were used to accurately measure the hemoglobin levels. After confirmation they were provided with Iron supplements for two months. Counseling sessions were conducted and our team suggested them to consume and produce iron rich local foods available in their area. Local self help groups, ASHA workers, Anganwadi Workers and various community based organizations were contacted and were involved in Mission Shakti program. Community involvement and participation made the whole program very effective and penetrative.  
The first round of follow up started from June 2021. It was very encouraging to see that 60% women were found with a raised hemoglobin level. We could locate 90% first phase beneficiaries in our follow up camps which is very encouraging. 
During the exercise, we found that in some communities like Missing community in Arunachal Pradesh and Adivasi community in Assam, anemia cases are more. In some villages, we even found 80%-90% women are anemic. After talking to people, observing their food habits and other social behaviors it was found that there are multiple reasons behind this. We are trying to address those issues also in a phased manner. Dept. of Women and Child Welfare is also helping us in this program especially in Namsai district of Arunachal Pradesh. 
Second round of follow up will start in October 2021 and our target is to reduce anemia by 75%-80% in the villages we selected by December 2021.