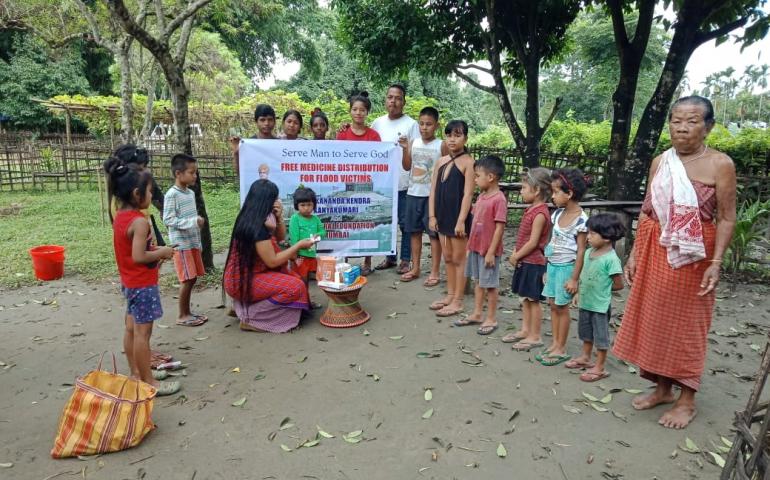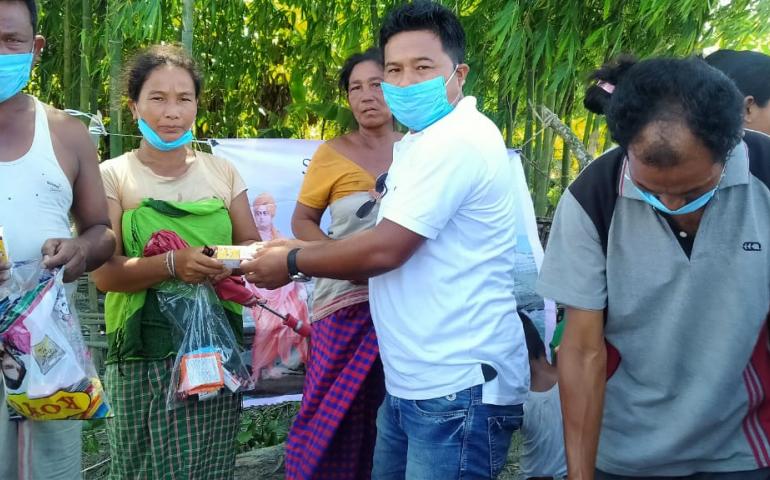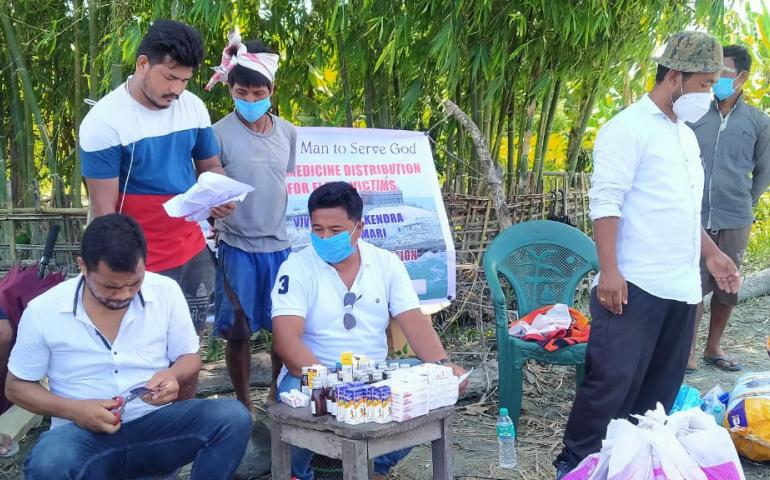 In the month of June and July 2020, devastating floods created havoc in most of the parts of Assam. People who are living near Brahmaputra River had to take shelter in the relief camps.  Because of the Covid 19 situation this year, they had to suffer more as the entire machinery is busy in Covid 19 activities.
One of the major concerns after flood is health issues and various water borne diseases start spreading. We are aware about this fact and had a plan to help some flood affected people of Tinsukia district, Assam. We identified three locations which were badly affected. Those are Laika and Dhadhia Island inside Dibru Saikhowa Forest, Erasuti of Giujan and Amarpur of Sadiya. All these places are very remote and timely interventions were necessary to control outbreak of diseases. These areas are inhabited by indigenous Mising community.
We contacted Dr. Mahesh Ji Sangvhi of Gokul Braj Foundation, Mumbai and briefed him about the situation and requested him to donate medicines from their organization at this hour of distress. He agreed to do so as he did it in numerous previous occasions and within a week we received the medicines. Now we contacted the volunteers of Takam Mising Porin Kebang(All Mising Students Union) and chalked out the plan to distribute basic medicines to the flood affected people through Health Volunteers as medical camps are not allowed this year because of Covid 19 pandemic. Sri Beni Doley, Sri Minturaj Morang and Sri Binod Dao took the responsibility and we involved the ASHA workers, ANM, Anganwadi Workers and village youths to reach to all sick persons of the mentioned villages. This is to be mentioned that Sri Binod Dao is the president of TMPK, Sadiya and a karyakarta of Vivekananda Kendra. Sri Beni Doley is the president of TMPK, Tinsukia and Sri Munturaj Morang is the secretary of TMPK, Tinsukia.
On 4th August, a basic health camp was organized at Laika and Dhadhia islands and the numbers of beneficiaries were 409. Again on 5th and 6th August such camps were organized at Amarpur and 3 no.Santipur of Sadiya and a total 798 patients were benefitted. In Amarpur, the Women wing of Mising community took the responsibility and made the camp very successful. Along with medicine distribution, awareness program were organized in all villages and volunteers explained about cleanliness, safe drinking water etc.    
The whole program was done very smoothly and successfully with the active participation of local service minded youths and maintaining all Covid 19 guidelines and protocols. The Deputy Commissioner of Tinsukia, Sri Bhaskar Pegu appreciated the initiative taken by Vivekananda Kendra Kanyakumari for the flood affected people of Tinsukia district.