Dialogue with Vanaprasthas - VK NARDEP
Vivekananda Kendra-nardep in its endeavor of Man making and Nation building is developing a Community Yoga Protocol for Elders to build Innate Immunity. Building innate immunity calls for invoking innate divinity from within, which is the goal of our life. Towards this, we are organizing the resource lectures from sadhaka's to fashion the lives of elders.
This week, the resource lecture will be given by Pravachana tilakam SriRamanuja SevaSri Thirukkudanthai Dr Sri U Ve Venkatesh. The topic is "Kaanagamum Paanagamum கானகமும் பானகமும்"
Dr Sri U Ve Venkatesh is a doctor by profession, a religious speaker, and a writer. He is currently writing a series in Dinakaran Aanmigam magazine, explaining each of the 1000 names of Vishnu Sahasranama with a story and delivering "GEETHAI KAATTUM PAADHAI" on Peppers TV. We request you to login well in advance i.e. at 5:55pm itself. 
Date: 09/07/2021
Time: 6 pm - 7 pm
Join Zoom Meeting
https://us02web.zoom.us/j/82437577771?pwd=Y29Id2I3alR5OG1zY3gvYzVOcDl6Zz09
Meeting ID: 824 3757 7771
Passcode: 833449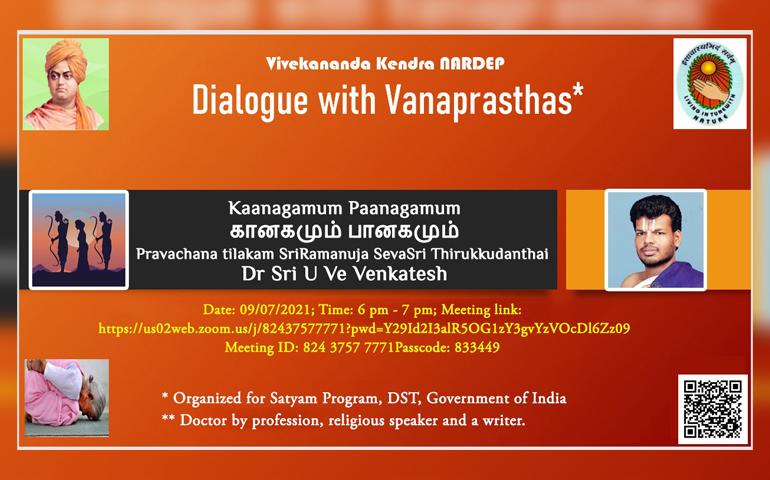 Event Start
Fri, 09/07/2021 - 18:00