Yoga Retreat at Vivekananda Kendra Vidyalaya, Kallubalu, Jigani
Venue: The serene campus of Vivekananda Kendra Vidyalaya, Kallubalu, Jigani. Away from hustle & bustle of city.
Time: 5:00PM, 1st Mar 2019 to 5:00PM, 3rd Mar 2019
Language: English | Kannada
Age: 18 - 60 yrs. Participant should be physically and mentally fit.
Donation: Rs 750/-
Payments can be made by NEFT to
Account Holder : Vivekananda Kendra Vidyalaya
Account No : 0405101037332
Bank : Canara Bank
IFSC Code : CNRB0003221
Branch : Jigani
Camp donations are non-refundable. Donation receipts will be provided at the venue.
Registration: https://goo.gl/forms/mfu7T971mVummrC83
Contact: retreat.vkblr@gmail.com | Vinay S V - 99162 39846, Prakash K V - 86609 56746, Raghavendra P N - 91138 98025
INSTRUCTIONS TO PARTICIPANTS / WHAT TO EXPECT
* The participant should be able to perform various Yogasanas and exercises and partake enthusiastically in camp.
* Day will start by morning 5AM. Participants are expected to be prepared accordingly.
SYLLABUS:
Participants can expect to learn the below
- Yogasanas, Surya Namaskara and Exercises
- Pranayama
- Study of Yoga Darshana & Bhagavad Gita
- Chanting of strotras, bhajans and songs for emotional culture
ACCOMMODATION:
The camp is fully residential. Simple dormitory type accommodation is provided for
Ladies and Gents separately.
FOOD:
All meals will be provided during the camp. We provide simple vegetarian food.
 
GENERAL INSTRUCTIONS:
* Participants should bring their necessary yoga mats, bedding with mosquito-net, a torch light, writing materials, toiletry articles needed (mattress will be provided).
* Prescribed dress for Yogasana Sessions: For Men: Any light colour loose T-Shirts and Track suits/Shorts
For Ladies: Any light colour Salwar and Kameez i.e. Punjabi dress. Tight dress
or Jeans are not allowed.
Apart from Yogasana and Shramanubhava sessions shorts are not allowed for the other sessions.
* Please avoid bringing laptops, i-pods and other valuable articles.
* Use of Mobile phones is not allowed during the camp.
* Participation in all the sessions in time is compulsory for all the participants.
* Participants should report at the venue latest by 5pm and can leave only after 5pm on the concluding day. Late reporting and/or leaving before the camp concludes are strictly not allowed.
* Going out of the campus venue, smoking, chewing of paan / paan-masala, consumption of tobacco / alcohol or any other intoxicants are strictly prohibited.
For inquiries you may contact:
Email : retreat.vkblr@gmail.com
Phone : Vinay S V - 99162 39846, Prakash K V - 86609 56746
Raghavendra P N - 91138 98025
 
Each soul is potentially divine. The goal of life is to manifest the divinity within by controlling nature, external and internal. Do this either by WORK or WORSHIP or PYSCHIC CONTROL or PHILOSOPHY - by one or more or all of these and BE FREE.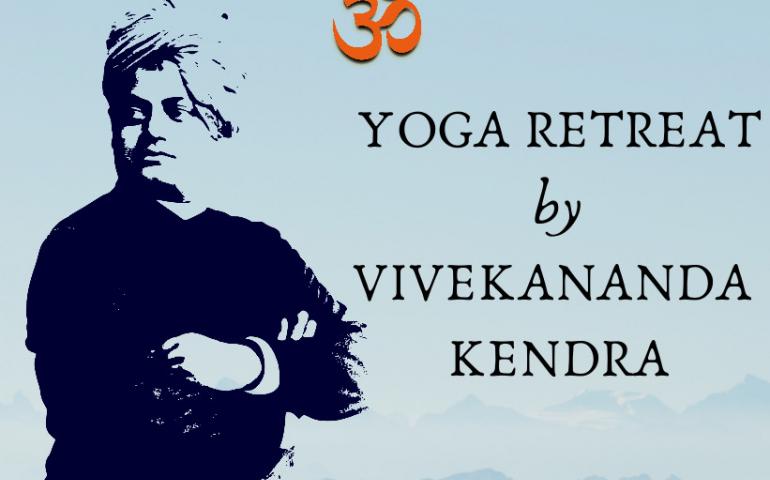 Yoga Retreat at Vivekananda Kendra Vidyalaya, Kallubalu, Jigani
12.771944, 77.623704