Yoga Sastra Sangamam 2024
YOGA SASTRA SANGAMAM
7th International Conference on YOGA
2, 3 & 4 February 2024, Vivekananda Kendra, Kanyakumari
Organised in collaboration with Mahatma Gandhi University Kerala  & Central University of Himachal Pradesh
"Each soul is potentially divine. The goal is to  manifest this divinity by controlling nature, external and internal. Do  this either by work, or worship, or psychic control, or philosophy - by  one,or more, or all of these - and be free. This is the whole of  religion. Doctrines, or dogmas, or rituals, or books, or temples, or  forms, are but secondary details."      - Swami Vivekananda
---
The 7th International Conference on Yoga Philosophy named as Yoga Sastra Sangamam will be held at Vivekananda Kendra, Kanyakumari for three days on 2, 3 and 4 February 2024. It is a unique confluence of philosophy, knowledge and practical dimensions of Yoga representing the confluence of three seas. The Yoga Sastra Sangamam is an International Conference on Yoga, distinctly different from the usually held Yoga conferences and seminars. The main theme of the Sangamam is the Yoga Upanishads. The twenty Yoga Upanishads contain Philosophical, psychological, spiritual and even physical aspects of Yoga. The Conference will focus on topics, ideas, contents, interpretations as well as practices elaborated in the twenty Yoga Upanishads. The Sangamam will provide an intense discussion and understanding of the Yogopanishads.
 
The Objective
To bring the pearls of Yoga Sastra close to the humanity.
To understand the Yogopanishads deeply and clearly.
To initiate an interest in the knowledge of Yoga.
To inspire participants to study and understand and Practice Yogopanishads.
To develop interest in the comparative study of Yogopanishads and commonly available yoga practices.
To understand what Yoga is and what it has been being propagated.
The Theme : It is a common platform for various streams and practices, theories, concepts and ideas hidden in the Twenty Yogopanishads
The Methodology
Multi - track presentations
In English and Hindi
Common Sessions
Questions and answers
Yoga Practices and performances
Who Can Participate
Yoga Enthusiasts
Yoga Practitioners
Students studying Yoga
Sanskrit students, teachers and professors
Yoga teachers and Professionals.
Those interested in understanding the pure essence of application of Yoga Texts.
Contents of the Sangamam
Paper Presentations
Poster Presentations
Panel Discussions
Yoga Sessions
Asana and Kriya Demonstrations
Recitation Competition of Patanjala Yoga Sutras (Any TWO padas). Prizes will be awarded to winners.    
Chanting of 108 Names of  Maharshi Patanjali and Patajali Homam with Yoga Sutras
Invitation For Paper Presentations : The theme and content of all paper presentations is - elaboration, discussion and understanding of Yogopanishads. Papers can be in English and Hindi. Papers oriented to Yoga Therapy Research need not be sent.
Kindly send a one-page synopsis with paragraph margin of an inch, single space between lines set to A4 size.
The synopsis should be mailed in a word and PDF file to - [email protected]
Last Date to submit the synopsis : 15th January 2024 (Confirmation of accepted papers for presentation will be informed within a week after receiving)
Last Date to submit final paper : 20th January 2024
Last Date for registration is 26th January 2024
You are to reach Kanyakumari by 2nd February 2024 by 7am
Venue : Vivekananda Kendra, Vivekanandapuram, Kanyakumari
The Atmosphere :
Kanyakumari has most beautiful, salubrious, green, natural, calm, serene and peaceful On the banks of the musical waves of the ocean Witness Sun Rise with Surya-Namaskar and Meditation
Delegates from abroad may contact the Conference Coordinator separately for any assistance and further clarifications via mail - [email protected]
Food and Accommodation :
Vegetarian food will be provided.
Accommodation on sharing basis is provided within the campus.
Registration :
Registration amount includes food, accommodation and conference material.
Dormitory Accommodation Rs.1,500/-
Non A/C Room accommodation on sharing basis Rs.3,000/-
A/C Room accommodation provided on sharing basis Rs.5,000/
 
For all further details contact at [email protected]
Co-ordinator, Yoga Sastra Sangamam
Vivekananda Kendra, Vivekanandapuram, Kanyakumari - 629 702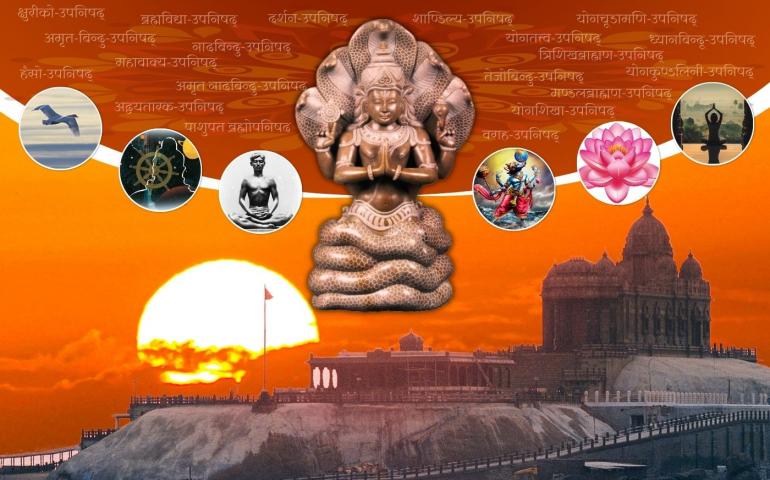 Event Start
2024-02-02T06:00:00
Vivekananda Kendra, Vivekanandapuram, Kanyakumari
Event End Date
2024-02-04T16:00:00